Our Central Location Means Lower Cost & Faster Delivery
Our Midwest location allows our clients to centralize their inventory; eliminating the complexities and additional costs typical of a multi-facility set up. And our unique arrangements with our shipping partners allows us to provide 3 day ship (or less) to the lower 48 states — at ground rates!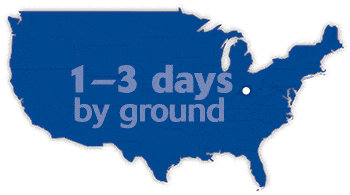 We only work with businesses that are the right fit.
Sometimes the right thing is letting you know we're not the right fit. We are committed to working only with clients whose needs we can serve with near perfection.
You can be up and running in 30 days.
We know time is money, so we have created processes and staffing to provide fast, high-quality system integration, so you won't waste time waiting for us to link to your IT.
Someone is advocating for your business every day.
During morning huddles, Client Experience Representatives discuss your business needs with each operational area leader. Whether there is high order demand, new products arriving, special handling, or project needs, the operations team is informed and ready to meet your specific needs.
We provide the information you need to run your business.
No surprises here. You will meet weekly with your Client Experience Representative to review your weekly scorecard showing how we are performing against your service levels. In addition, all stakeholders participate in a quarterly business review to evaluate the previous 90 days and plan for what's coming up.
We pass on our freight savings to you.
Because of our large volumes, we're able to negotiate lower shipping rates with major carriers. We pass on these substantial savings to our customers.
If things go wrong, we make them right.
Because we only partner with clients who are the right fit for our expertise, you can count on us to deliver the order processing speed, accuracy, and inventory accuracy you require. If something does prevent us from meeting your service level, Aero will proactively correct the issue.
We promise to do what's right for your business.
From the initial qualification process to delivering products to your customers, we take the time to understand your business requirements so we can deliver the right solution and level of service, every time.
The first choice… the second time around.
To be honest, many of the clients we work with didn't choose us as their first fulfillment partner. Some find it difficult to let go of the day to day oversight and want to keep their inventory local. Others feel our pricing is too complicated and opt for promises of lower, bundled rates and faster shipping. After being deeply disappointed with unexpected charges and hidden fees, these clients often come back appreciating the transparency of our upfront pricing and the benefits of our centralized, midwest location.
Compatibility Is Key
Compatibility is the key to any happy, long term partnership — and order fulfillment is no different. We are committed to working with clients whose needs can be served with near perfection. Most of our clients can be described as experienced, mid-sized manufacturers with nationwide customers that benefit from a centralized distribution strategy.